Your Custom Invitation Timeline
We are often asked "How much lead time do you need to create a custom invitation?" Well, the short answer is "It depends." That may not sound very helpful, but every invitation design is unique, and because there is an almost endless choice of styles and printing techniques, the type of invitation we're creating largely dictates your custom invitation timeline.
For example, I had a client who planned her entire event and realized she forgot to order invitations. She called me in a panic with only 7 weeks until her son's bar mitzvah. Because she wanted a relatively simple design and already had chosen her party theme and colors, we were able to design the full custom bar mitzvah invitation suite and get everything printed within a week. This allowed her to send out the invitations within a reasonable mailing window.
Other clients have much more elaborate custom invitation designs in mind -- such as printing on plastic, or detailed laser cuts -- and the design process, the printing processes, and the assembly and production processes take much longer.
However, here are some general guidelines to help you figure out your custom invitation timeline for your event. You'll need to account for design and production time, as well as your mailing window. We'll start with design and production.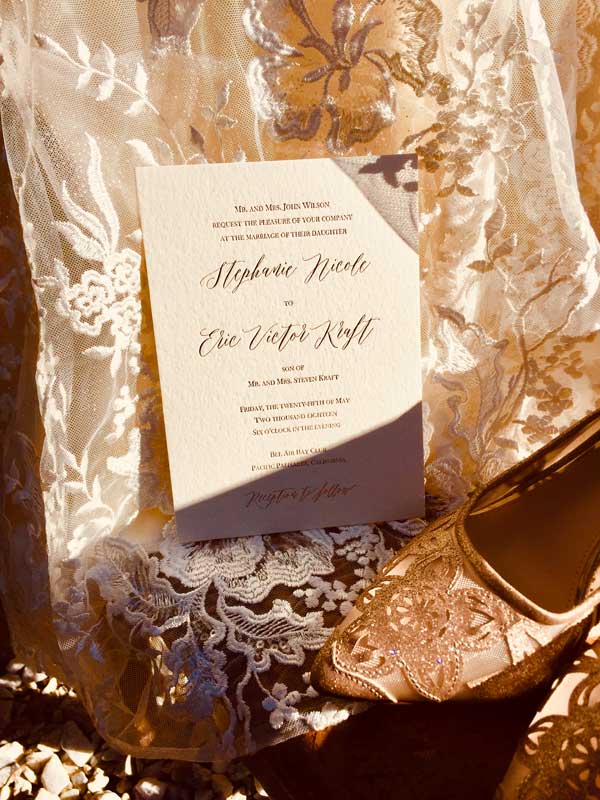 How Long Is My Custom Invitation Timeline?
So how far in advance should you order your invitations? I've done the math for you: your custom invitation timeline is four months. This means you should start designing your custom invitations no later than four months before your wedding. However, we recommend starting the process at least six months in advance whenever possible.
The bottom line is START EARLY. You'll want to give us plenty of time to develop your vision, decide on the details, including how many invitations you'll need, and then design your full invitation suite. You'll have much more fun and will enjoy this part of the process far more if you aren't rushed. The more time you give yourself, the more options you have, and you won't encounter rush fees or the extra stress that goes along with being in a hurry.
Is Your Event Date Getting Closer?
Your event is closer than you think, so now is a great time to begin designing your custom invitations. Give yourself the luxury of a long custom invitation timeline so you can set the mood, create expectations, and build excitement for your special day. Contact me online or call me at 424-666-1796. Let's get started today.
Schedule Your Inspiration Session
It's never too early to start planning your event and to decide who you are going to work with. Let's schedule your inspiration call or meeting. We'll talk about your event and start imagining how wonderful it's going to be. Fill out the form on this page and let's get started.