Getting Started with Custom Invitation Design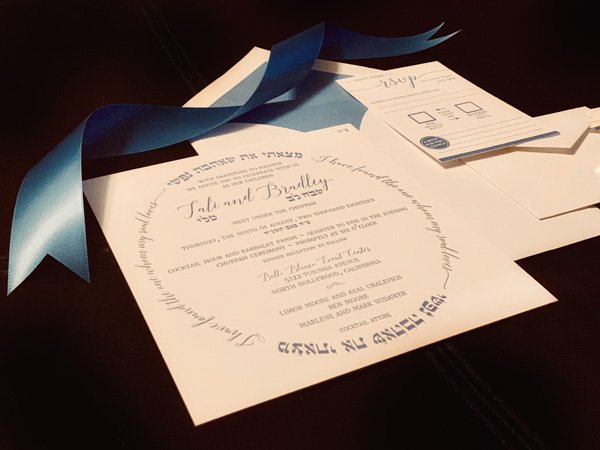 What is the custom invitation design process? Your custom invitations are going to be different than any other invitation you have received. The process for creating your invitations begins with the design process, which includes imagination, discussion, research, digital proofs, and usually a few rounds of edits.
We do not charge by the hour during the design, or for each digital proof, because it's important to Invitation Maven that you LOVE your design. We don't want you to worry about making edits or asking to see the layout a different way. So Invitation Maven charges a Design Fee for all of our custom invitation designs. It's a flat fee that's separate from the price of your invitations.
Some designs take longer than others to create because there's more involved with the design process. The Design Fee typically ranges between $200 and $400 and varies based on the quantity of invitations you're ordering, the style of your invitation, and the other elements you may need for your event. The design fee is paid at the start of the process and secures my time and availability to you.
Why Do You Charge A Design Fee?
Some clients ask why we charge a Design Fee. We do this because we are investing in you and in your event. We know you'll love the finished results, but it takes dedication and time to get there. You're not just ordering something out of a catalog. We spend hours and hours of time with each and every client to come up with your perfect design.
Basic Invitation Design Fee Package
Invitation Maven includes a lot of valuable services in our Design Fee. Our Basic Invitation Design Fee Package, which covers most designs, includes:
Initial Consultation in person or telephone meeting of up to two hours and preparation of detailed estimate.
Design time, up to four hours to create a complete Invitation Suite based on the concept we discuss during our Initial Consultation. A Custom Invitation Suite is typically comprised of the Invitation, RSVP Card and Envelope, Reception Card, and other inserts as needed.
Digital proofs, several if necessary, of up to two separate designs.
One design element from the invitation (Think of it as a custom logo, custom artwork, or a stylized "name treatment" for the guest of honor) provided as a jpeg or other graphic file format as requested (png, pdf, ai, eps, etc.). You can use this design element throughout your event, and can even share it with other vendors you're working with.
The custom invitation design process is an exciting time. It's full of expectation and anticipation for the event that will be here sooner than you think. So let's get started today on your custom invitation design. Contact me online or call me today at 424-666-1796.
Schedule Your Inspiration Session
It's never too early to start planning your event and to decide who you are going to work with. Let's schedule your inspiration call or meeting. We'll talk about your event and start imagining how wonderful it's going to be. Fill out the form on this page and let's get started.