The Invitation Maven is a full-service Custom Invitation Design Company dedicated to helping you create your perfect event.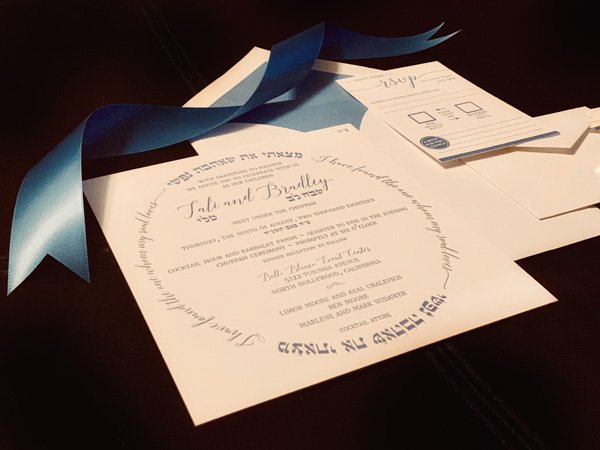 What Is A Truly Custom Invitation™?
If you search "custom invitations" on the web, you'll find all kinds of websites offering beautiful invitations where you can "customize" some of the text. Some even allow you to "customize" some of the design elements. But these are not "truly custom" designs. You're using one of the company's stock designs and all you're doing is personalizing it for your event.
What we do at Invitation Maven is actually start with a blank canvas and design a full invitation suite just for you. Your colors, your theme, your wishes and your dreams, all coordinated into a cohesive look that tells your story. And while we're at it, we get your guests excited to be part of your story, too!
Okay, so you've decided that you want to work with the Invitation Maven for your event. What are some of the choices you get to make?
Custom Invitation Design Options
We offer a large variety of papers and materials and has experience with many different printing methods and techniques. Below is a list of some of the many options we offer. This list is by no means all-inclusive. If you want to do something you don't see listed below, ASK!
Matte Cardstocks and Papers
Shimmery and Metallic Cardstocks and Papers
Glitter Paper
Textured and Smooth Cardstocks and Papers
Wood Papers and Wood Sheets
Plastic and Acrylic
Suede Paper
Fabric
Glass
Digital
Offset
Thermography
Laser Cutting
Die Cutting
Foil Printing
Embossing and Debossing
Letterpress

Layered Invitations
Ribbons
Rhinestones
Laser Cuts
Medallions
Pocket Cards
Pochettes
Specialty Envelopes
Stickers and Labels
Wire and Beads
Feathers
Flowers
Personalized graphics and art
Graphics designed by the client
Schedule Your Inspiration Session
It's never too early to start planning your event and to decide who you are going to work with. Let's schedule your inspiration call or meeting. We'll talk about your event and start imagining how wonderful it's going to be. Fill out the form on this page and let's get started.