I've participated in a few wedding styled shoots lately. Being somewhat new to styled shoots, I find them quite educational and worthwhile. I've essentially spent hours and hours and hundreds of dollars preparing my designs completely on spec, with no guarantee of a return on my investment.

So why do I do them?
Because they're GREAT practice for the real thing. And the real thing is YOUR event.
Don't get me wrong: styled shoots LOOK like the real thing. There are real invitations, real place settings and real flowers, real wedding gowns and real tuxedos, real people with beautiful hair and make-up, and real venues. The whole point of a styled shoot is to provide event vendors and photographers an opportunity to create new designs and portfolios based on current trends, and to fine tune their systems and methods so that when it comes time to put together an actual event for our clients, we've worked out all the kinks.
Styled shoots inspire creativity across the entire spectrum of event industry participants. Most importantly, they help vendors create and build networks with other event industry professionals, which, for me, means creating relationships with people who are the best at what they do.
Photos from styled shoots are also often submitted for publication. When the work of one of your vendors is featured, it ensures you're hiring a true expert.
Styled Shoots Help Resolve Unforeseen Issues In Advance
One of the more significant benefits of a styled shoot for me personally is they allow me to resolve unforeseen issues with new designs. In the event design world, even with years of experience, sometimes you can't imagine some of the issues that might arise until you get on site. And I'd rather figure out issues with a new design before a wedding, rather than at a wedding. I'll give you an example.
I was recently asked to make signage for a beautiful tropical themed wedding styled shoot in Temecula, California. This shoot was just featured at SanDiegoWeddings.com (see the images at "Wine Country Meets Tropical Flair in Gorgeous Wedding Styled Shoot", and see below for a list of participating vendors). Laser cut invitations and laser cut signs are a relatively new offering by Invitation Maven, so I wanted to create stunning designs that looked good, because in a styled shoot, it's important for the designs to look good in the photos. But for practical reasons, I also want to make sure my designs function well.
This particular shoot took place outdoors and it was a little windy. And as we all know, you can't control the weather. The table name signs I designed were a bit top-heavy and were easily blown over by the wind. So while they looked AMAZING in the photos, I would design them slightly differently for an actual outdoor event. I may not have thought to do that unless I had done my test run at that shoot.
Styled Shoots Help Make Sure I Ask the Right Questions
Styled shoots also help me better understand which questions to ask up front before creating a custom design. For example, at a beach themed styled shoot I did last week in Laguna Beach, California (some of my photos and a list of participating vendors is below), in addition to the wedding invitation suite and event signage, one of the things I designed was a beautiful custom laser cut cake topper. I designed it to sit low on the top of the cake. However, when the cake showed up on site, the cake designer had placed fresh succulents on top. I learned from this trial run that it is important to coordinate with the cake designer ahead of time so we can design something together. That way our work doesn't compete with each other's, but rather complements each other's, because ultimately, both of our goals is to provide our mutual client with our absolute best.
The photos actually turned out great…a good designer can think quickly on her feet to work around any issues she experiences onsite, whether it's at a styled shoot or at an actual wedding. In fact, I pride myself in finding creative solutions. But now I know to ask in advance what the baker has in mind so we minimize last minute changes and surprises. The last thing I would want to do is to compromise the work of another vendor. Working together in advance is the best way for both of us to serve our client.
Styled Shoots are a Valuable Investment of Time and Resources
Participating in styled shoots isn't a must for all vendors. They take a lot of time and resources. But I look at them as a valuable investment in my craft. Ultimately, the beneficiaries are my clients.
If you see something that you'd like for your own event in the photos below, contact me online through my website, or call me at 424-666-1796. Or if you're a vendor and would like to collaborate on a wedding styled shoot, please reach out. I would be happy to help you plan your extraordinary event!
#weddingstyledshoot
#weddingstyledshoots
#styledshoots


Styled Shoots require a Team of Talent
This is just part of the talented team of event professionals involved in our very successful @styledshootsacrossamerica Tropical-themed shoot at @emeraldpeakvenue in Temecula, California. I'm the one on the left in the hot pink jacket.
Details from our Tropical Themed Wedding Shoot in Temecula, California
Laser Cut Pineapple
Laser Cut Aloha Sign
Laser Cut Reception Sign

Laser Cut Just Married Sign
Participating Vendors in the Tropical Flair Shoot in Temecula, California
Host
Styled Shoots Across America
@styledshootsacrossamerica

Planning-Creative Direction
Alexievents
@alexievents_u.s.a.
@lexie_david
Coordinator Assistant
Stealing Shapshots
@stealingsnapshots
Venue
Emerald Peak, Temecula
@emeraldpeakvenue
Floral Designer
A Taste of Honey
@tasteofhoneyco
Stationery Designer
Kokomo Creative
@kokomocreative
Signage (Laser Cut)
Invitation Maven
@invitationmaven
Hair & Makeup
Tiffany Vasquez Sedano @louderwithpowder
Ana Hernandez @anahernandez.mua
Leyda Sosa @leydylikeduh
Bridal Shop
Mary Me Bridal
@marymebridal
Bridesmaids Dresses
Bella Bridesmaids
@bellabridesmaids
Lingerie and Kimono
Tres Sur
@t.s.la
Groom and Groomsmen Attire
Stitch and Tie
@stitchandtie
Hair Jewelry Designer
Epanouigrace
@epanouigrace
Balloons Designer
Mommy Poppins Balloons
@mommypoppinsballoons
Wedding Gifts
Everything Done To a T
@everythingdonetoat
Linens and Pillows
Nuage Designs Inc.
@nuagedesignsinc
Draping Designer
Cindy Lieber, OC Brides
@ocweddingplanner
Vintage Furniture
Touched By Time Vintage Rentals
@touchedbytime
Rentals
Rustic Peony Co.
@rustic_peony_co
Bar
Bubbles and Brews
@bubblesandbrewsca
Signature Cocktails
Mia Valenzuela, Mia's Martini
@mias.martini
Cake
Sweet 'N Saucy Shop
@sweetnsaucyshop
Sweet Desserts @myfavoritesweetsfavors
Models @brand_models
@jacobofe_ (Pink Groom)
@imlancepaul
@its_kevin.norman
@ryanmanuel_actor
@itssiemarie
@begracie
@annalittlebird
@brookeethompsonn (Blush Gown)
@kate_da_grreat (White Gown)
@ninaseul
Variations on a Theme
For the Beach-Themed styled shoot in Laguna Beach, California, I designed two slightly different invitations. This one features a piece of real wood paper as the top layer of the main invitation. That piece has been laser cut with a custom wave design to pull in the beach/ocean theme. The rest of the colors are natural colors of the sea and land.

Oh, and the blue sand dollar and shell are custom #lasercut acrylic pieces I made as well!
Here's the other invitation suite I designed for this shoot. The top layer of this design is cut out of a shimmery blue-green metallic paper, and the RSVP envelope matches.
The details matter
One of my favorite pieces from this invitation suite is the custom map and directions card that was laser cut into the shape of the state of California.
Here's a custom menu I designed to match the invitation suite. It has the same wave pattern cut out of the top layer.
Don't have the budget for laser cut details? Why not print them instead?! Here's another variation of the menu…this one has the wave pattern printed on the card instead of being laser cut.
Delineate the different areas of your event with custom laser cut signs.
Reception Area

Ceremony Area

Just Married and Bride and Groom Name Laser Cut Acrylic Signs
Accentuate your Gift Table, Seating Card display or Food or Dessert Buffet with a custom name sign like this cute acrylic laser cut table top sign.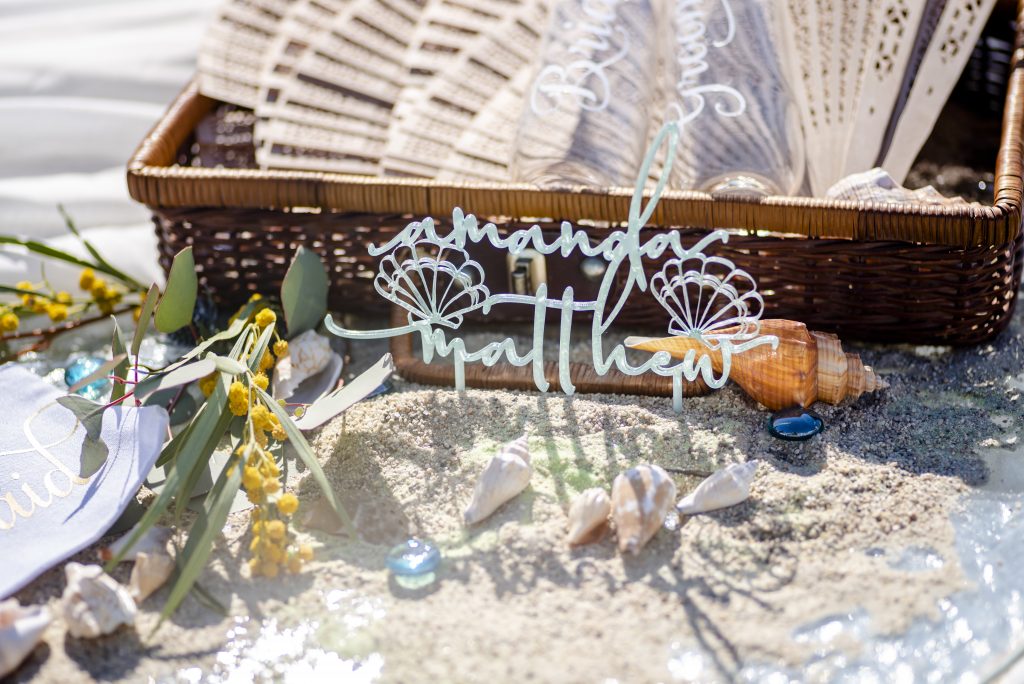 Participating Vendors in the Beach Themed Shoot in Laguna Beach, California
Host
Styled Shoots Across America
@styledshootsacrossamerica

Planning-Creative Direction
Alexievents
@alexievents_u.s.a.
@lexie_david
Venue
Occasions at Laguna Village
@lagunaoccasions
Floral Designer
Sprig & Spring
@sprig.and.spring
Stationery Designer and Signage (Laser Cut)
Invitation Maven
@invitationmaven

Frames
H & L Lovely Creations
@hllovely
Hair and Makeup
Beauty by Jill @beautybyjill
Amy V Beauty @amyvbeauty
Krystal Rose Studio @krystalrosestudios

Bridal Gowns and Bridesmaids Dresses
Fleurish LA
@fleurishla
Groom and Groomsmen Attire
Stitch and Tie
@stitchandtie
Hair Jewelry Designer
Epanoui Grace
@epanouigrace
Wedding Gifts
Everything Done To a T
@everythingdonetoat
Rentals
AKT Made
@akt_made
Tabletop
La Pinata Party
@lapinataparty
Vintage Furniture
Touched By Time Vintage Rentals
@touchedbytime
Bar
Rustic Peony
@rustic_peony_co
Signature Cocktails
Mia Valenzuela, Mia's Martini
@mias.martini
Cake
Whisk & Apron
@whiskandapron
Sweet Desserts
My Favorite Sweets Favors
@myfavoritesweetsfavors
Catering
The Cliff
@theclifflagunabeach
Harpist
Gretchen Sheetz
@sheetzofmusic
Photobooth Station
AAV Entertainment
@aav_entertainment
Models
@viktoriadalloz
@kateryna_sheremet
@margaryta_gvritishvili
@carly.tuttle
@crys_419
@denzelly
@bryanmichaelking
@riley.wisler

Dogs
@zenwithxander
@kingzleythefrenchie